コメント
(9)
【コメントまで移動↓】
※2018年12月15日発売

・【オンライン配置】
・【着画像】
・【アイテム画像】
・【Week17人気ランキング】
・【発売価格】
・【ニュース】
・【リスト】
※価格はすべて予定価格。発売直前で変更になることがあります。
-*-Supreme 公式-*-
・ News
・ Instagram
-*-オンライン&アプリ配置-*-
※サムネイル画像クリックで拡大
【Jackets】 / 【Shirts】 / 【Tops / Sweaters】
【Sweatshirts】 / 【T-shirts】 / 【Hats】
【Accessories】 / 【Skate】 / 【New】
【アプリNew】 / 【アプリ配置】

-*-Sold Time-*-
・EU完売タイム
・US完売タイム
・国内完売タイム
-*-着画-*-

※もっと着画が見たい人はこちら↓
godmeetsfashion.com / weekアイテム着用画像
-*-Picture-*-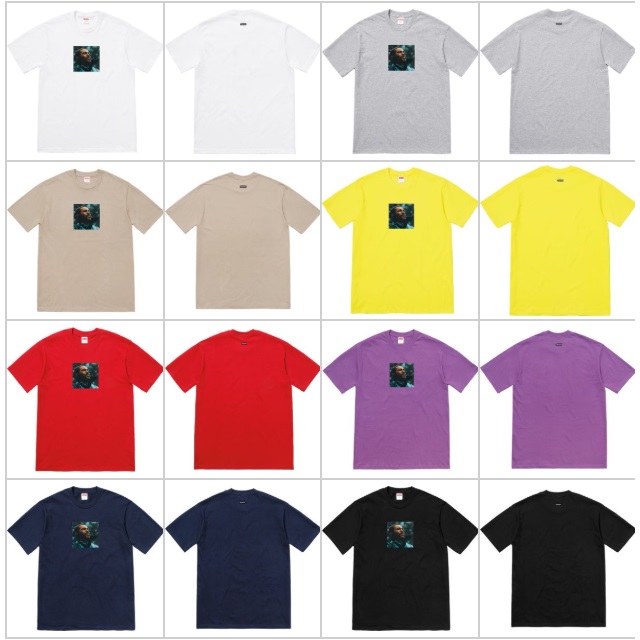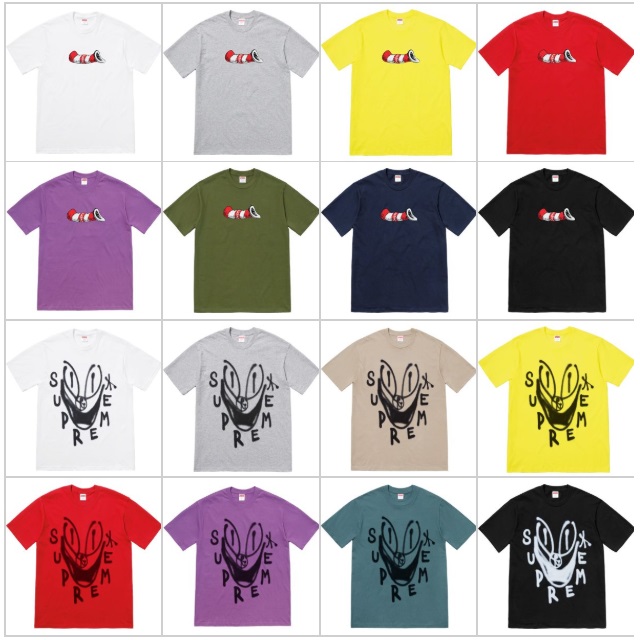 ↓
全アイテム画像/サイズ表はこちら
-*-Vote-*-

人気ランキング(Week17投票結果)
 
・Santa Cruz Chameleon Bike 378000 (13%, 2,070 票)

・Marvin Gaye Tee 7560 (12%, 1,899 票)
 
・GORE-TEX 700-Fill Down Parka 118800 (11%, 1,711 票)

・Santa Ornament 6480 (9%, 1,366 票)

・Dr. Seuss Tee 7560 (9%, 1,350 票)

・Marvin Gaye Hooded Sweatshirt 29160 (8%, 1,161 票)

・Ludens Tee 7020 (6%, 891 票)

・GORE-TEX Taped Seam Trooper 14040 (5%, 839 票)

・Smile Tee 7020 (5%, 809 票)
 
・Thermal Zip Up Sweat 34560 (4%, 629 票)

・Bombay Tee 7020 (4%, 577 票)
 
・Luden's® Throat Drops 国内予定なし (3%, 413 票)
 
・Roses Corduroy Shirt 19440 (2%, 383 票)
 
・Snowflake Neck Gaiter 4860 (2%, 341 票)

・Marvin Gaye Skateboard 12960 (2%, 289 票)
 
・Snowflake Toggle Fleece Jacket 32400 (2%, 286 票)
 
・Motif L/S Top 15120 (1%, 179 票)

・Luden's Beanie 5400 (1%, 138 票)

・Supreme NY Camp Cap 8100 (1%, 102 票)
投票者数: 15,433

読み込み中 ...
・Supreme/Marvin Gaye & Winter Tees
Supreme will release a collection featuring original album artwork from What's Going On.
The collection consists of a
・Hooded Sweatshirt 27,000 (29,160-tax in)
・T-Shirt 7,000 (7,560-tax in)
・Skateboard 12,000 (12,960-tax in)
and 4 Winter Tees
・Smile Tee 6,500 (7,020-tax in)
・Luden's Tee 6,500 (7,020-tax in)
・Cat In The Hat Tee 7,000 (7,560-tax in)
・Bombay Tee 6,500 (7,020-tax in)
-*-Week17's List-*-
・Supreme®/Santa Cruz™ Chameleon 27.5″ Bike 350,000 (378,000-tax in)



Aluminum hardtail mountain bike with 27.5" wheels. Race Face Aeffect 30T crankset with SRAM Level brakes. Race Face Chester pedals included. 28.21 lbs.
・GORE-TEX 700-Fill Down Parka 110,000 (118,800-tax in)


Waterproof, breathable GORE-TEX nylon 2-layer shell with 700-Fill down interior quilted baffles. Two-way full zip closure with velcro placket and removable hood with embroidered logo. Hand pockets at chest and lower front.
・Snowflake Toggle Fleece Jacket 30,000 (32,400-tax in)

 
Sherpa fleece with quilted lining and toggle front closure. Patch pockets at lower front and embroidered felt logo patch on chest.
・Roses Corduroy Shirt 18,000 (19,440-tax in)


Cotton corduroy
・Motif L/S Top 14,000 (15,120-tax in)


All Cotton
・Thermal Zip Up Sweatshirt 32,000 (34,560-tax in)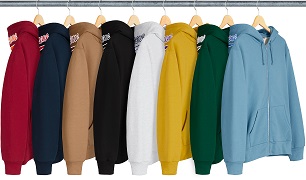 Heavyweight cotton crossgrain fleece with embroidered logo.
・Supreme NY Camp Cap 7,500 (8,100-tax in)


・GORE-TEX Taped Seam Trooper 13,000 (14,040-tax in)


Waterproof breathable GORE-TEX nylon.
・Snowflake Neck Gaiter 4,500 (4,860-tax in)

・Supreme®/Luden's® Throat Drops ※国内発売予定なし


Box of 20 Wild Cherry flavored pectin lozenges.
-*-(Unseen)-*-
・Luden's Beanie 5,000 (5,400-tax in)
・Santa Ornament 6,000 (6,480-tax in)
・Sticker Set 1,000 (1,080-tax in)
-*-Leak-*-
Supreme®/Steiff® Bear
…dropping soon

–
Christmas Tee
…dropping soon

※画像は左から、15fw/16fw/17fw(参考掲載)
–
unseen arc logo jacket

–
Supreme/The North Face
Paper Nuptse, Pant, Scarf
※リーク情報はリリースが確定しているものではありません。