コメント
(0)
【コメントまで移動↓】
Supreme x Undercover 16aw
Supreme公式アナウンスと日本語訳だよ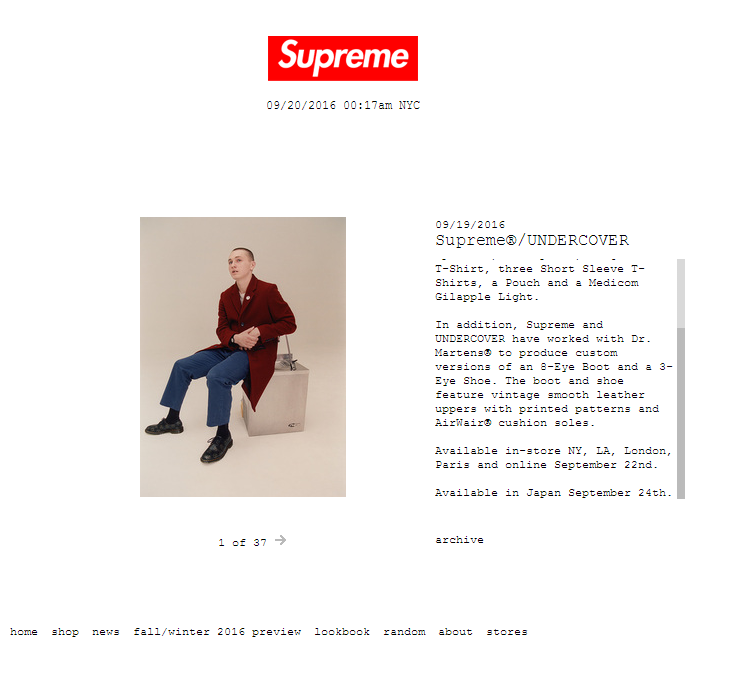 Supreme 公式↓
Supreme has worked with UNDERCOVER on a new collection for Fall 2016. The collection consists of a Wool overcoat, Reversible MA-1, Coaches Jacket, Wool/Cashmere Sweater, Work Pants, Hooded Sweatshirt, Zip Up Sweat, Sweatpants, Long Sleeve T-Shirt, three Short Sleeve T-Shirts, a Pouch and a Medicom Gilapple Light.
In addition, Supreme and UNDERCOVER have worked with Dr. Martens® to produce custom versions of an 8-Eye Boot and a 3-Eye Shoe. The boot and shoe feature vintage smooth leather uppers with printed patterns and AirWair® cushion soles.
Available in-store NY, LA, London, Paris and online September 22nd.
Available in Japan September 24th.




日本語訳:
シュプリームはアンダーカバーとともに2016年秋の新コレクションを発表する
コレクションは、
・ウールオーバーコート
・リバーシブルMA-1
・コーチジャケット
・ウール/カシミアセーター
・ワークパンツ
・スウェットパーカ
・ジップアップスウェット
・スウェットパンツ
・ロンT
・3型のTシャツ
・ポーチ
・ライト
から構成され、さらにドクターマーチンからヴィンテージ・スムースレザーとエアウエア社製ソールを採用した
・8-EYEブーツ
・3-EYEシューズ
が発売される
発売日は、ニューヨーク、ロスアンゼルス、ロンドン、パリは9月22日
日本は店舗(代官山、渋谷、原宿、名古屋、大阪、福岡)、オンラインともに9月24日